Who We Are
Ruggedy Range™ Wilderness Experience is a small boutique, local nature tourism business, established in 2000 in Stewart Island and owned and operated by Furhana Ahmad. It operates independently to maintain it's unique identity and to ensure that visitors enjoy the advantages of choices and direct interaction, available only within a small business. In 2007, to compliment activities, Aihe Eco Charters and Water Taxi was launched. Due to a shortage of qualified skippers in New Zealand, Aihe only operated intermittently, but is now being put to greater use since Furhana has qualified as a skipper.
About Aihe
Aihe was built by StabiCraft, a local Southland boatbuilder established in 1987. StabiCraft now sells boats worldwide, including to the US, Canada, UK and Australia. StabiCraft's boats have gained a great reputation, within New Zealand and overseas.
Aihe's key features are:
Capacity for upto 12 passengers and 2 crew
Spacious - so all customers can sit inside
Windows alongside seating, allowing all customers good views
Removable side curtains for improved viewing and great photo opportunities
Comfortable, thick soft, seating with backrest
Spacious storage
Onboard heating for colder days
Powered by 200 hp Yamaha motor.
Supporting the Environment
We donate $1.00 p.p. per trip to our conservation fund. Set up by Ruggedy Range™ Wilderness Experience in 2003, so far we have raised over $11,000. Funds will be used in worthwhile conservation projects and research, that have measurable objectives. Ruggedy Range™ Wilderness Experience is Stewart Island's only Qualmark Enviro Gold operator.
Licences and Permits
Marine Mammal Viewing Permit
Department of Conservation Freshwater River Concession
Qualmark Endorsed Visitor Transport
Qualmark Endorsed Visitor Activity
Qualmark Enviro Gold Award.
Skippers
This section will be updated with information about our skippers. In the meantime...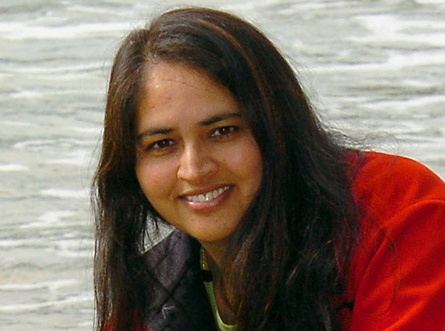 Furhana
Furhana is owner / operator of Aihe Eco Charters and Ruggedy Range™ Wilderness Experience. Furhana qualified as a skipper in 2014 and has travelled regularly on different vessel's either as crew or accompanying guided clients. Furhana has a BSc Geography Hons. degree and a strong interest in natural history including land and sea-based wildlife, flora and natural geographical features. Furhana was born in Kenya, schooled in the UK and attended university in Wales. First visiting Stewart Island over 20 years ago, she has been a permanent resident for 18 years, retaining a passion for the environment.